Morocco, Indiana???  Why in the world would that be printed on the back of this fire truck in Florida, antique or not?  My curiosity got the best of me, so my friend Linda and I pulled up along side of it and waved at the two men in the truck….they waved back and smiled.
<![if !vml]>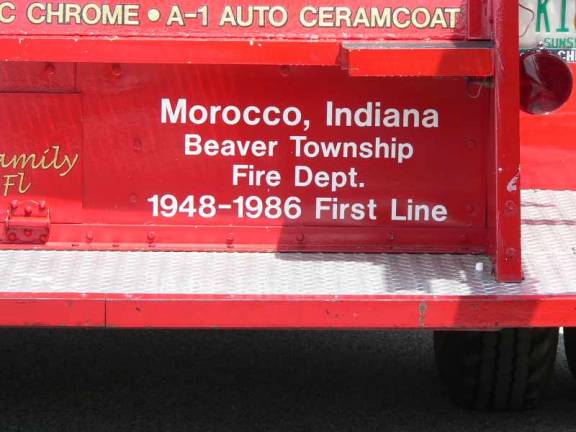 <![endif]>
We drove along, side by side down the road at a blisteringly slow pace, blocking traffic flow,
while hollering back and forth to each other out the windows.  I told the driver that my husband was from Morocco and asked, "Why is that painted on the back?"  The driver asked me what our name was and when I said, "DeKoker", he said, "I think I know Dave!"  I then asked him if he had time to follow us to our house as I wanted Dave to see this.  We weren't very far from there, so the driver said, "Sure."  Since I was driving, I had Linda quickly call Dave at home and tell him to come outside as I had a surprise for him.  He was puzzled as to why he had to come outside for it, but did it anyway, and oh what a surprise it was when we all pulled up and he got to read the back of the truck!!!!
As it turns out, Dave clearly remembers this vehicle as being the actual fire truck of his childhood as he was growing up in Morocco, except it was painted all white when he knew it.  He even recalls getting a ride on the back of it as a member of the HS basketball team after some special tournament, or something like that.  The driver, who was also the owner of this baby, was out for a spin and told me his name was Bill "Little Billie" Miller, also a native of Morocco.  It IS a small world after all!!!!!
Bill then began to explain the "rest of the story."  This truck was originally a grain truck when it was new from the Chevrolet factory, but the bed was removed and the truck was sent away to get the fire tank installed.  At that time they painted the entire truck white and put it into service as the town fire truck in 1948.  At some point many years later, it was "retired" from service, purchased by Enlen Brandt and kept by him until purchased by Bill.  He brought it to Florida in 1986 where he now lives (just a few blocks away from us—who knew?).  The proud machine presently resides and serves as a "mascot" for the Pinellas Suncoast Fire & Rescue Department of Indian Rocks Beach, FL.  The fire department wanted to paint it red and white to match their livery and that was perfect for Bill to keep it partly white as original.  He is very active in the Kiwanis Club, thus the license plate.  Note the original plate frame from Chevrolet with the year 1948 on it.  Bill says that he tries to drive it about once a week and loves taking it in local parades to show "her" off.  Her original siren and lights still work, too!!!!